->
Today I have one of our most requested secret recipes from Olive Garden.  Everyone loves the endless breadsticks they serve on the table.  Soft, warm and brushed with melted butter and Parmesan cheese.  These breadsticks can be made from scratch at home using some common ingredients.  Now you can enjoy these warm fresh breadsticks with your next meal.
You can always find a fantastic collection of Olive Garden secret recipes on our forum: Go Here
Enjoy!
=-=-=-=-=-=-=-=-=-=-=-=-=-=-=-=-=-=-=-=-=-=-=-=
Get Rid of Stress and Anxiety This Christmas
Healing holiday music that no home should be without.  These classic holiday songs are made with 7 healing frequencies to put your mind and body at ease.  Take a listen: Go Here
=-=-=-=-=-=-=-=-=-=-=-=-=-=-=-=-=-=-=-=-=-=-=-=
=-=-=-=-=-=-=-=-=-=
New Secret Recipe
=-=-=-=-=-=-=-=-=-=
Olive Garden(tm) Parmesan Butter Breadsticks
Like this recipe? Get our secret recipe cookbooks on sale – Go Here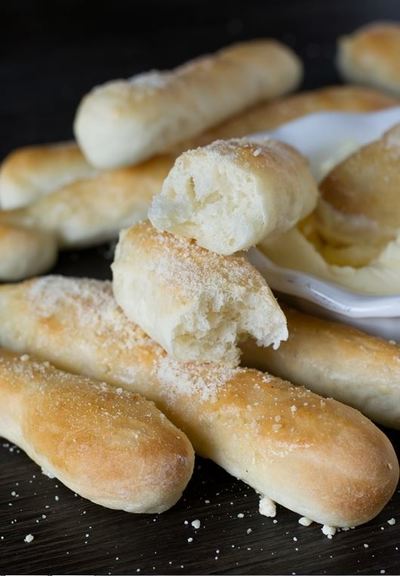 2 packages (1/4 oz each) active dry yeast
½ cup sugar, divided
2 cups warm water, divided
3 tablespoons canola oil
1 egg
1 teaspoon salt
4½-5 cups flour
½ cup butter, softened
2 tablespoons grated Parmesan cheese
½ teaspoon garlic powder
In a stand mixer bowl, dissolve yeast and 1 tablespoon sugar in a 1 cup warm water. Add the oil, egg, salt, 2 cups of flour and remaining sugar and water. Beat on medium speed with paddle attachment until smooth.
Stir in remaining flour, enough to form a soft dough. Using the dough hook attachment, knead the bread on medium speed for 6-7 minutes.
Place in a greased bowl, turning once to grease the top. Cover and let the dough rise in a warm place until doubled, which will take about 30-40 minutes.
Punch the dough down. Turn it onto a floured surface and divide the dough into about 36 pieces. Shape each piece into a 6-8 inch rope.
Place them onto greased baking sheets. Cover and let it rise until doubled, about 25 minutes. Bake at 400 degrees for 10-12 minutes, or until golden brown.
In a small bowl, combine the butter, Parmesan cheese and garlic powder. Brush on the warm breadsticks, or serve it along side the breadsticks.
Makes: 36 8-inch breadsticks
Source: Secret Recipe Forum
Until Next Time… Be Well!
Kind Regards,
Ron
PS- Join us on Facebook and get more recipes and freebies: Go Here
PPS- Forward this email to a friend or tell them to sign up here.
=-=-=-=-=-=-=-=-=-=-=-=-=-=-=-=-=-=
RECOMMENDED:
1) Honey & Cinnamon (Two Ingredients You Need More of)
Blending these common ingredients can boost your immune system and aid in the speedy recovery of colds and coughs.  Find out about all the amazing ways this dynamic duo can improve your health: Go Here
2) The #1 WORST Food For Your Skin, Joints, & Blood Sugar
Learn about the worst food that harms your blood sugar levels, and how this also ages your body faster. You might even be eating this food every day, so it's important to know the problems and how to minimize this: Go Here
3) Juicing Recipes With Amazing Health Benefits
Over 275 healthy juice recipes based on the latest nutritional discoveries! Boost your immune system, boost your energy, improve your sex life, and fight your health problems: Go Here
=-=-=-=-=-=-=-=-=-=-=-=-=-=-=-=-=-=